"
Klask is better than air hockey (and it fits on your kitchen table)
"
It is FIERCELY addictive and possibly even more fun when tipsy.
"
This game is incredibly addictive and you'll definitely find yourself playing enough to make it a great investment.
"
Overall, the game is light on mechanics and rules, innovative in its construction, and frequently loud during play!
"
The Danish National Sport!

What is Klask?
A popular pub game in Denmark, Klask is like a fast-paced table-top version of Air Hockey, only it uses multiple magnets and a small round ball. Players must use the magnetic handles under the board to control their playing pieces on top of the board.
The #1 Party Game from Denmark!
Gametime

10 minutes

Who

Ages 8+

Players

2 or 4
How To Play
1

Use the magic of magnets to strike the ball into your opponent's goal

2

Avoid magnetic obstacles if you can or stick them on your opponent to score points

3

Keep control of your striker and whatever you do, stay out of your hole!

Watch the video and learn how to play in just 60 seconds!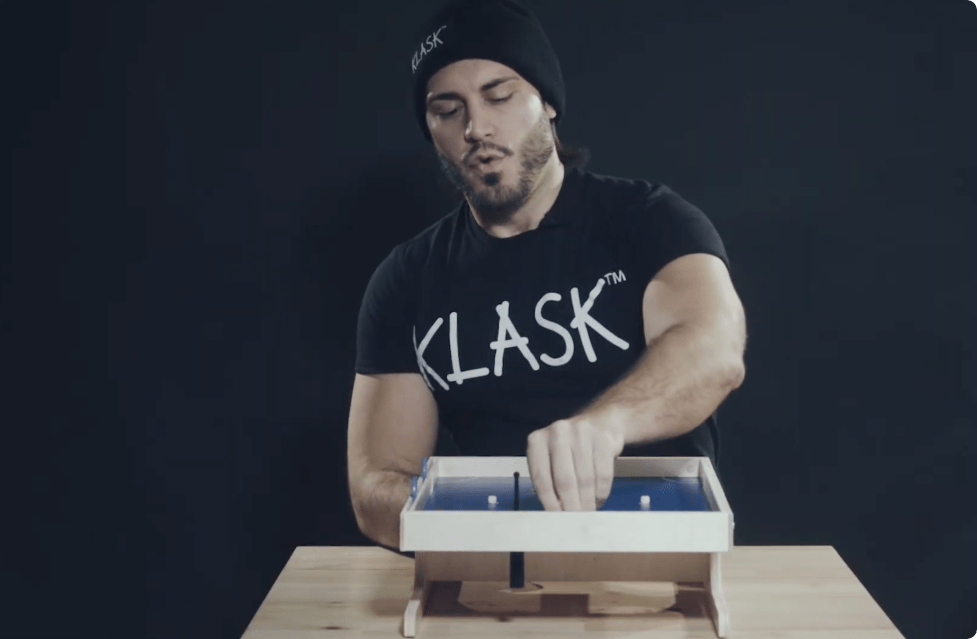 900,000+ SOLD.
NOTHING BUT LOVE
900,000+ SOLD.
NOTHING BUT LOVE
The best freaking game ever!
This game is awesome! I can play with my kids! I can play with my wife! I can play with my buddies! It's even better with beer! This game is right at home for a family game night or at the bar with your buddies! So grab a pint and enjoy!
Justin Edmondson
So much fun for family and friends!
Okay, so this is absolutely the most fun we have had in a long time. Mix of table tennis, air hockey and fooseball all in one, at a fraction of the cost and completely portable. Absolute brilliance.
cookiemonster
The best game I've ever played!
A beautiful game. The best game I ever played or owned. This game deserves a rating no lower than a 10. Non-believers are simply blinded by pride. All those who come to know Klask will love it and Klask will love them back. Just as it always does. Klask doesn't care how you feel about it. Klask will always be there. I love Klask and so should you. Klask.
SchlechterWolf
A blast!
This game hooked us on the first night. Be sure to watch some of the videos on social media to get a real sense of what goes on. Or should I say what could go on. A must have if you enjoy competitive games.
Alisha
The Best Dexterity Game
Hands down one of the best dexterity games I've played. Fast paced and exhilarating play. Simultaneously has caused some of the most hilarious moments in gaming I've ever had with my wife.
Xren
Fun & Only Fun!
Absolutely LOVE the game. I play with my kids, husband and friends. It totally rocks your time and you never get bored. Absolutely LOVE the game. I play with my kids, husband and friends.
Ashley
Spiel des Jahres
Recommendation
Spiel Des Jahres Germany
2017
TOTY
Innovative Toy of the Year
Nominee, TOTY
2018
Guldbrikken
Jury's Special Award
Danish Game of the Year
2014
Årets Spel
Family Game of the Year
Swedish Game of the Year
2015